Where To Stay
Hot Springs, Arkansas Hotels, Resorts & Cabins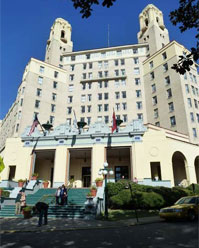 Start your search for a Hotel or Bed & Breakfast in Hot Springs, Arkansas here. There are quite a few nice unique hotels that the national chains choke out from typical hotel searches. All of the hotels, cabins and bed & breakfasts listed have brief reviews so you can get a feel for what they are like. We suggest you contact them directly to see if they have discounts or special rates available.

1890 Williams House Inn
420 Quapaw Ave Hot Springs, Arkansas 501-624-4275
Established in 1890, the 1890 Williams House Inn was the first bed and breakfast in Arkansas. It is located 5 blocks from downtown Hot Springs. WiFi is available in the common areas.

All Seasons Lodge
1127 Central Ave Hot Springs, Arkansas 71901 501-624-7131
The All Seasons Lodge has been known by several names over the years. It is an older motel (room doors open to outside and face the parking lot) located near downtown at the intersection of Central & Grand. It has an outdoor pool, a nearby Go Cart facility and miniature golf.

Arlington Hotel & Spa
239 Central Ave. Hot Springs, AR 71901 501-609-2533
Since 1875 there has been an Arlington Hotel in Hot Springs. The current building opened in 1924 and has been a landmark next to Hot Springs National Park ever since. The hotel has been the choice of several US presidents including Franklin Roosevelt, Harry Truman, George H.W. Bush, and native son Bill Clinton. Hotel guests are entertained with piano selections every Friday and Saturday evening.

Bartee Meadow Bed & Breakfast
129 Bartee Trail Hot Springs, Arkansas 501-262-9100
A small bed and breakfast with two units. Units have one and two queen sized beds. Located near the MLK Expressway and Hwy 70E (Little Rock Hwy).

Baymont Inn & Suites
5321 Central Ave Hot Springs, Arkansas 71913 501-520-5522
Located on Lake Hamilton Baymont Inn and Suites is a newer hotel with lake views and a boat dock. They provide a free hot breakfast and they have free WiFi. They have a lakeside outdoor pool and they are close to several good restaurants like Jose's Mexican and Luna Bella Italian and if you're in the mood for some hole-in-the-wall BBQ try the Rib Cage for some BBQ to go.

Best Western - Winners Circle Inn (Previously Stagecoach Inn)
2520 Central Ave Hot Springs, Arkansas 501-624-2531
Remodeled with 32 inch LCD TV's, refrigerators in every room, and free WiFi. They provide a free hot breakfast and all rooms have pillowtop mattresses. Located across the street from Oaklawn Park Jockey Club and short walk from Rocky's Corner Pizza, a local pizza pub favorite.