BUCKET LIST
The Hot Springs Pizza Trail is a Pizza Lover's Dream
Hot Springs, Arkansas is known as the only city in the United States containing a National Park but it is not as well know as a city with seven of the best pizza makers in the South. Hot Springs residents will brag on their favorite local pizza joint with the same passion they use to defend their favorite BBQ restaurant. These pizza crafters consist of three long established businesses and four newer ones, all which make outstanding pizzas unique in their own way. The Hot Springs Pizza Trail should be on all Hot Springs visitor bucket lists along with Hot Springs National Park, Garvan Gardens and the surrounding lakes.

First on the pizza trail is Rod's Pizza Cellar. Rod's opened in 1975 and quickly became popular with several of their fresh dough specialty pizzas with the Godfather being their huge hit. The Roddenberry's put so much time into perfecting the Godfather that for many years they refused to alter it. It is piled with pepperoni, Canadian bacon, sausage, onions, green peppers and black olives then topped with provolone cheese making it one of the best and heaviest pizzas on earth. There's nothing like Rod's Godfather pizza anywhere. It is part of what makes Hot Springs special. Other specialty pizzas that are exceptional are the Godmother, the Razorbaccio, the Wild Hog and the Colossus with lots of toppings including anchovies. Of course Rod's has pizzas named after our beloved Arkansas Razorbacks. What else would you expect?


Rod's Pizza Cellar Godfather Pizza
Beano's Pizza is another Hot Springs original best known for their ground sausage pizza. This sausage pizza started out over 40 years ago under a pizzeria named Pop-N-Pizza. The business eventually became Beano's pizza. While the business location and owners changed several times over the years, pizza fans were in luck the sausage pizza recipe remained the same. The sausage is piled on to a crispy cracker like crust that is like no other. Beano's other pizzas are good but the sausage pizza has kept pizza lovers coming in over the years.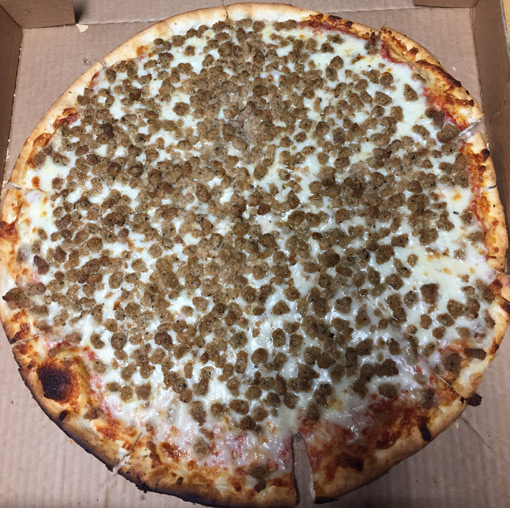 Beano's Sausage Pizza
Another landmark pizza joint across from Oaklawn Park is Rocky's Corner Pizza. Rocky's opened in 1975 with their Chicago style pizza and they are still going strong. Their pizzas have boxing related names like the K. O., the Draw and our favorite the Heavyweight with Italian Sausage, Pepperoni, Beef and Canadian bacon. Rocky's Corner pizzas have a unique crust that that has a great texture and taste and the ingredients are high quality and fresh.

Anthony Valinoti grew up in New York eating great pizza that he continued to crave after traveling across the US and into Europe. Around 10 years ago he landed in Hot Springs and decided this was the location he would bring his passion of New York pizza with his opening of Deluca's Pizzeria. Deluca's approach to pizza is laser focused on quality and sourcing the best ingredients regardless of where they are found. Pizza dough is hand made for each day and when it's gone, pizzas are done for the day. Many of Deluca's ingredients are not found in typical pizzerias like fresh whole milk mozzarella, Ezzo pepperoni which cups up during cooking and has a bacon like crisp, soppressata which is an Italian dry salami and Peppadew sweet pickled piquant peppers. The combination of ingredients is minimal so each ingredient stands out on its own. The addition of Deluca's Pizzeria in Hot Springs propelled the spa city to be an even better place to visit.

Maxine's in downtown Hot Springs has been a brothel, a coffee shop, a bar and in recent years it has become a bar and music venue with great 10-inch deep-dish pizzas that can weigh up to four pounds. Maxine's was named after Maxine Temple Jones who was known as the Brothel Queen of Hot Springs. Her brothel was in the upper floor of the bar in the late 1940's into the early 1950's. Maxine's recent addition of deep-dish butter crust pizza was a welcome addition to the Hot Springs pizza trail. It is very cheesy and dense with toppings. It's hard to eat more than a piece or two. It's hard to define their pizza as it is a little different from typical Chicago deep dish pizzas. We'll just say it is cheesy good in its own way.


Maxine's Cheesy Deep Dish Pizza
Grateful Head Pizza Oven expanded from its original location in Hochatown, Oklahoma to Hot Springs several years ago. It is located in a renovated and restored downtown building on Exchange Street a block from bathhouse row. You can eat inside or if the weather is nice, eat on their large scenic outdoor mountainside patio. Grateful Head pizzas are freshly made with a unique hand braided garlic butter outside crust. Their offerings include the all-meat Dire Wolf and Psychedelic Supremo both of which are solid choices.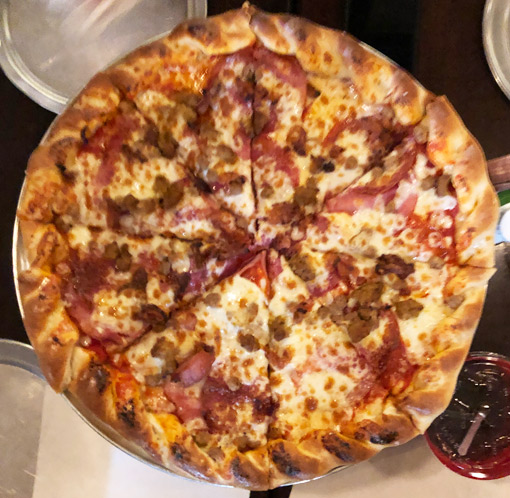 Grateful Head Dire Wolf Pizza
Another recent pizza addition to Hot Springs is SQZBX Brewery & Pizza. Located in a renovated historic building that used to be a piano store, SQZBX offers great pizza and beer in a beautiful location. They make their fermented dough daily, let it cold-proof for a couple of days then hand toss it to make their charred, crispy outside crust pizzas with fresh ingredients.

If you are a pizza lover, before you spend lots of money and time traveling to find the top 10 pizza places in America schedule a trip to Hot Springs, Arkansas and visit these seven outstanding local pizzerias on the Hot Springs Pizza Trail. You could eat pizza for a week straight and not get tired of it because each restaurant provides a unique version that you will crave. Hot Springs is the pizza capital of Arkansas with incredible craft pizzerias that should be on every pizza connoisseur's bucket list.


Have you completed the Hot Springs Pizza Trail? Celebrate with a Hot Springs Pizza Trail T-shirt!